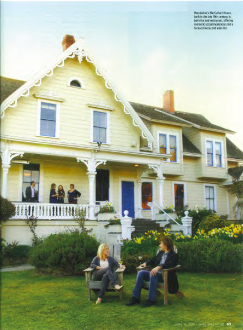 Vacations are important to Americans. Travel within the United States grew by nearly 2% in 2017, with a total of 2.25 billion vacations. In this country, 96% of workers report that vacation time is a priority. Of couples who take pleasure trips together, 71% report that improved emotional intimacy is a major reason for traveling alone as a pair. On vacation, 42% of tourists say they feel more romantic. Each year, approximately 1.4 million just-married couples take honeymoon trips; the typical honeymoon is seven to nine days long. For tourists with kids in tow, 71% report that being able to cook was a deciding factor in choosing accommodations. Of families who travel together, 37% state that vacations increase their happiness, which makes travel the number one activity for family happiness.
MacCallum House: A Luxury Boutique Bed and Breakfast in Mendocino
Luxurious accommodations are a priority for many tourists. If you're looking for Mendocino accommodations that could serve as the perfect wedding venue, the ideal romantic getaway, or the most charming boutique hotel for a family vacation, look no further than MacCallum House in the center of Mendocino, California. MacCallum House is a Victorian home with beautiful gardens, a fine restaurant that uses local organic products, gourmet breakfasts, 24-hour desk service, wine tours, and amazing ocean views. It also offers special indulgences such as fresh flowers in your room, local wine with our own chocolate truffles and other decadent desserts, and a basket of spa items. MacCallum House welcomes families and pets.
MacCallum House Accommodations
Stay in one of six special rooms in our Main House, one of seven pet-friendly cottages, the Barn with its stone fireplaces, hot tubs, and saunas, Village Rooms and Suites with its spectacular ocean views, or a Village Vacation Home, ideal for families and reunions.
MacCallum House offers luxury, natural beauty, history, and romance for travelers who wish to experience all that Mendocino has to offer. If you're planning a destination wedding, a special couple's vacation, or a memorable family gathering, we're here to meet your needs. Call for more information or to book a stay.